sustainable solution for social-distance dining
O2GO Reusable Food Containers by OZZI are a cost-effective, sustainable alternative to single-use, to-go containers.
The OZZI system:
reduces landfill waste
reduces dependency on fossil fuels by limiting deliveries of disposable containers
saves trees and reduces emissions
is user and operationally friendly
NSF certified, FDA approved
Made in the USA
BPA-free No. 5 plastic
ECOLAB-tested for 1,000 washes
100% recyclable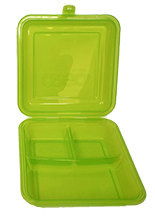 How it works
Present your OZZI token at Neubig and The Bistro to get a container and cutlery with your meal.
When you are done, take the empty container and cutlery to one of our convenient drop-off areas -- any dining facility that is open or at your next meal.
You will receive a new token in exchange for your used container, to be used with your next meal.