Your SUNY Cortland ID Card: Your key to the campus
Submit a selfie for your ID card image
Forget cash, checks or credit cards -- all you need to carry is your ID card.
You name it, here's what you get: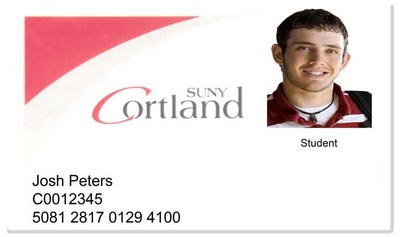 What you need to know:
All FAQs

ID cards are required for all students and staff.
You are entitled to your first replacement ID card at no charge. Additional replacements will cost $15.
Replacement cards due to normal wear and tear are no charge. Just bring your damaged card to the Cortland Auxiliary office for a reprint.
Your ID card is for your use only — and you must be present for all card transactions.
Due to system upgrades and meal plan changes, cards will be required for all transactions (Meals, Dining Dollars, Connections and Privilege) at all dining locations.
Keep your ID card on you or in a secure place at all times to protect your money, privileges, privacy and safety!
Check your Meal Plan Balances or Connections/Privilege Account Balances
Deposit funds into your Connections or Privilege Account
Cortland Auxiliary Business Office, Neubig Hall
PH# 607-753-2430 or 2425
Hours of Operation
Monday - Friday, 8 a.m. to 4:30 p.m.
Summer Hours
Monday - Friday, 8 a.m. to 4 p.m.
How many times does Blaze use his ID card in this video?