Chef James Webb awarded the title of Certified Executive Chef (CEC).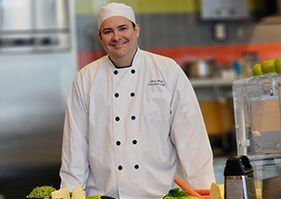 SUNY Cortland Dining Services is pleased to announce that Executive Chef James Webb has been awarded the title of Certified Executive Chef (CEC) by the American Culinary Federation (ACF). This certification is accredited by the National Commission for Certifying Agencies (NCCA). This certification comes at the end of an intensive training process. Some of the requirements are the completion of courses in food safety, supervisory management, a written and practical examination, and over 5 years as a supervisory chef. As a CEC Chef Webb is joining the roughly 2,500 other CEC's nationwide. A CEC is a skilled, professional chef who manages the kitchen and has demonstrated the knowledge necessary to ensure a safe and pleasurable dining experience by preparing food that is delicious, nutritious and safe to eat.
Chef Webb has been with ASC since 2010, he led the culinary effort during JETS training camp and has been instrumental in the development of many of our newer concepts like Pomodori, and Greens & Grains. Chef Webb is the Executive Chef at The Bistro in the Student Life Center and has been since its creation. Chef Webb will now be Dining's Senior Executive Chef, and he continues to bring our culinary expertise up a notch campus-wide.
Dining Services is proud to have two members of our staff that have achieved their CEC. Chef Webb joins Dining Production Manager Brennen Bush CEC in having this certification. Brennen has been a member of the team for just over a year and brings with her a wealth of culinary expertise. Brennen has served on numerous competition teams and excels in training and menu development. Look for contributions from her in Neubig Dining and all our special events.